Extra corporal focused shockwave treatment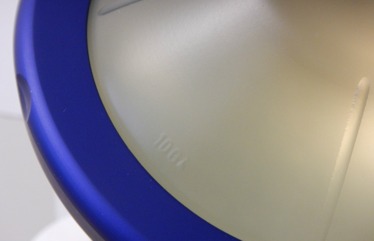 Extracorporeal shockwave therapy (shock wave) is an effective, and scientifically proven method used by physical therapists since more than ten years .Through a piezoelectric shockwave probe generates acoustic waves which are transported into the painful area. Research shows a positive effect on the 70-80% of treated patients in both acute and chronic difficulties. The physiotherapist will start with an examination and diagnosis to see if there is indication for extracorporeal shockwave therapy. A treatment then takes about 25 - 40 minutes depending on the extent of the damage, with about 1 week between each treatment. Appropriate diagnosis of physiotherapy Extracorporeal shockwave therapy is tendinitis, tennis elbow, golf elbow, shin splints, runner's knee, shoulder pain, lime shoulder, heel spur / plantar, trochanterit, trigger points in muscles, arthritis, calcification of soft tissues and muscles mm.
Ref: SBU information service of extracorporeal shockwave therapy of heel spurs: For the question regarding the effect of extracorporeal shockwave therapy is the heel spur, the authors of both overviews concluded that extracorporeal shockwave therapy may be a safe and effective treatment of heel spurs at the long-term problems.
(Aqil A, Siddiqui MR, Solan M, Redfern DJ, Gulati V, Cobb JP. Extracorporeal shock wave therapy is effective in treating chronic plantar fasciitis: a meta-analysis of RCTs. Clinical Orthopaedics and Related Research 2013:epub.)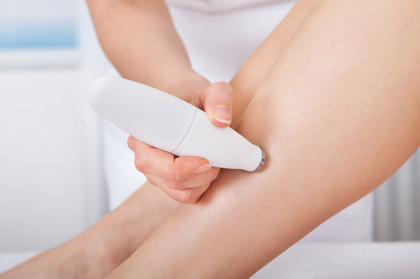 Physiotherapists have long used the laser which is an established and evidence-based approach. The laser has in trials been shown to have an effect at the physiotherapy treatment of disorders of the tendons and muscles. Dyna Laser (DL) is a development of conventional laser. Unlike older laser having an effective depth of about 10 mm, it is possible to distribute the DL up to 70 mm into the tissue. Because of the high output power on the DL ( 10 mW ), it is possible to supply a large amount of energy in a very short time which provides a time-efficient processing.
Fysioterapiteamet is the only physiotherapy clinic in the country to offer Dyna Laser as a treatment for tendinitis, tennis elbow, golf elbow, shin splints, runner's knee, shoulder pain, lime shoulder, heel spur / plantar, trochanterit, trigger points in muscles, arthritis, calcification of soft tissues and muscles mm.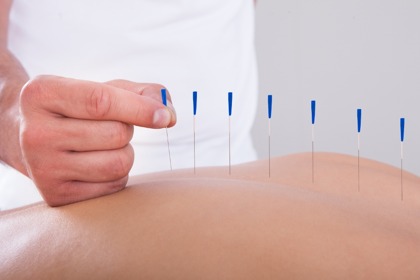 Medical acupuncture is based on a scientific basis of modern Western pain research as a basis. The effect of acupuncture is achieved through stimulation of coarse afferent nerves, providing a release of so-called endorphins and serotoninergic drugs (the body's morphine). These substances are released into the cerebrospinal fluid and has an analgesic effect. It has been in the study also demonstrated an increased activity of the immune system, as well as a release of adenosine at the site where the needle is placed.

Swedish Council on Technology Assessment in Health Care (SBU - Report 177, 2006) have found that there is strong scientific evidence for acupuncture as a treatment option for chronic low back pain and tennis elbow. Acupuncture also helps in pain in the neck and shoulders.
Musculoskelettal ultrasound scanning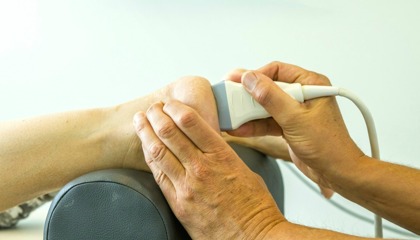 Musculoskeletal ultrasound scan is a globally well-established method for physiotherapists including Denmark. In Sweden ultrasound scanning is performed mostly by radiologists and there are a few physical therapists who master the method.
Ultrasound scanning has its place as a complement to the clinical examination, the palpation findings with hands and fingers may be confirmed by ultrasound scan. The physiotherapist see exactly occuring inflammation, thickened tendon or vascular invasion evident and cramped conditions in joints. Based on the findings at the ultrasound scan may physiotherapist optimize the treatment. The patient receives an explanation for the pain and the physical therapist can see where it is most efficient to deploy, for example, extracorporeal shockwave therapy.
A major advantage of ultrasound scanning is also that you get the opportunity for a dynamic study, when the patient activates joint, muscle or tendon is seen snags in the movement, crowding into a joint or pinched nerves with great precision, this allows for custom training and dosage of loading during exercise.






Orthopedic Manual Therapy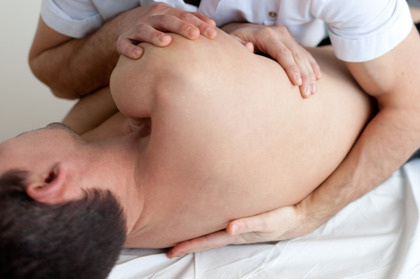 Orthopaedic Manual Therapy is a specialist focus in physiotherapy.
With a holistic approach as the base is made an analysis and summary of medical history, pain and functional status supplemented by manual examination of the joints, muscles and nerves. This study includes systematic specific tests of mobility, pain provocation and relief. Then is set up, in consultation with the patient, a treatment plan that is continuously evaluated and revised as necessary.
The treatment may include pain relief, extension of current musculature, mobilization, manipulation and functional training.





McKenzietreatment ( MDT )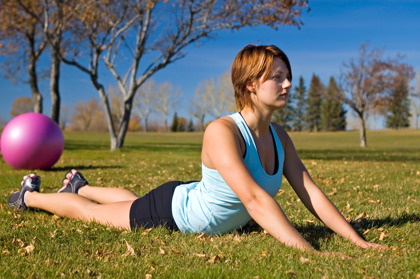 Mechanical Diagnosis Treatment ( MDT ) is one of the most widespread methods for the treatment of disorders of the back, neck and extremities. About 2400 doctors and physiotherapists have passed at least the first course of MDT in Sweden. MDT is an effective method for the diagnosis and treatment of pain in the back, neck, arms or legs.
The aim is not only temporary pain relief but cure and long-term assistance.
The method is based on using repeated movements to sort out the symptoms in different diagnostic groups. These movements are relatively straightforward and requires no special equipment.
The appeal is sorted by how they react to various repetitive movements. When you have found a direction of movement in the back which alleviate the symptoms, it is used as a treatment.